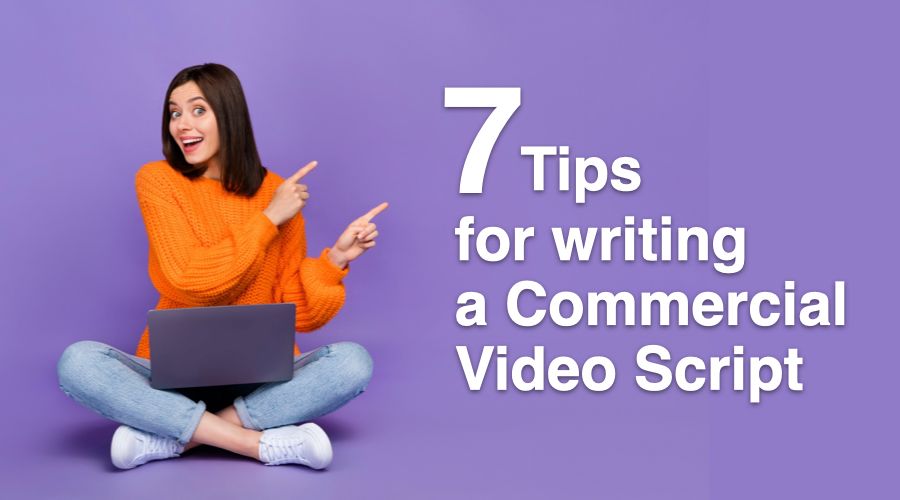 Tips to Write a Commercial Video Script in 7 Steps
Powerful Commercial Video Script in 7 Simple Steps: Create Engaging and Memorable Content to Drive Sales and Captivate Your Audience!
Whenever you come across a video on social media that talks about or promotes a product or service by a brand, it is a commercial video. Many people create and post commercial videos for their brands but only focus on some of the aspects that must be considered to create an impactful video which is why their videos don't inspire any action and don't get good results. So, what factors must you consider while writing a commercial video script that speaks to your potential customers and goes viral? Here are seven tips that will help you write great video scripts for commercial videos:
Write a Good Video Brief
The first step in writing a script for any commercial video is developing some brief objectives that will be the soul of your video. You must start with research about your target audience. This research should answer the following questions:
What does your audience want?
What will your audience get from your video?
What actions would you want your audience to take after watching your video?
Is your video going to bring any value to your audience?
After getting answers to these questions, you will have a blueprint for your video. It will kickstart your imagination and sprout ideas.
Convert the Message Into a Story
All videos have one or multiple messages. You must also have one or two messages you want to convey through your video. Research claims that videos with a good storyline work better than those without any storyline. So, converting your message into a story will immediately connect with your audience emotionally. Every brand conveys a statement through its content, but what matters is how it is conveyed.
What Makes a Story Impactful?
It doesn't have to be a complicated story, as people don't want to spend much time trying to understand it. So, your story should be direct and logical.
It should be in a proper flow. The story's starting point should convey the customers' current reality, and the end should convey how your product has positively changed their lives.
The purpose of your story should be to impact your audience so that they feel the urge to use the Call to Action button.
Speak in Your Audience's Language
Many people try to create content for social media in their own language because they want to use their creativity and make it look perfect from their perspective. This is a major mistake as it won't appeal to the audience because it doesn't go with their perspective. You have to put yourself in their shoes and then write the script. Study the kind of content that appeals to your target audience, and understand their level of understanding and proficiency in the language. You can incorporate jargon and slang that your audience uses daily.
Keep It Concise and to the Point
You must have heard the saying, "Less is more". Keep it in mind while writing your script. Instead of writing a rich and bulky script, you must stick to a narrative that lasts only 3 minutes. Some videos last for 30 seconds but have it in them to leave a lasting impact.
Refrain from Relying on Words for Impact
Many scriptwriters depend on the dialogues for impact and thus end up writing a lengthy story. Remember that other elements also play a role in leaving an impact on the audience, such as music, graphics, sound effects and pauses at the right moment. So, use every element efficiently rather than writing a script with multiple punches. However, developing the best script for your audience can take a lot of work. An expert video production company like Leads Brand Connect can help you in video production, from writing scripts to marketing them for you.
Read It Multiple Times
After you finish your script's first draft, you must go through it multiple times. It will help you understand how your writing will sound, if it is in proper flow and if it has any unnecessary elements. Keep reading and editing until you are satisfied with its flow and quality.
Ask Yourself these Questions
Before forwarding the script for further processing, ask yourself these questions:
Will this script resonate with my target audience?
Does it have a logical flow?
Does it include a compelling call to action? If you successfully follow these steps, you can write the best script for a commercial video. But if you need help following all these steps, then you can approach Leads Brand Connect. This expert video production company can help you create impactful commercial videos for your brand and help it grow consistently.